Dominno is a sexy exotic looking woman. She has wonderful tanned skinned that is partly covered by tattoos located on the left forearm, and right leg. Domino has thick but very toned legs that lead to a gorgeous set of ass cheeks. As nice as her ass cheeks are, her tits are the main attraction; her breasts are big and juicy and they hang firm. Her facial features exude sexuality; her piercing eyes, and supple lips definitely grant her the label of sexy vixen.
Latest updates featuring Dominno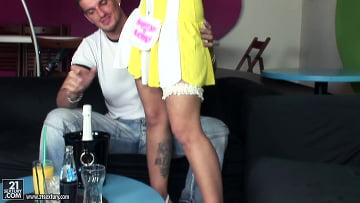 17th June
- Can we get enough of big boobs? Guess not! Well, we couldn't either so we invited Dominno over to entertain us with her majestic twins. In return, we
offered her a big hard cock to play with. The deal has been made and in the next half an hour we will have the joy to watch those massive girls bounce and jiggle.
...Read More