Latest updates featuring Vivien Bell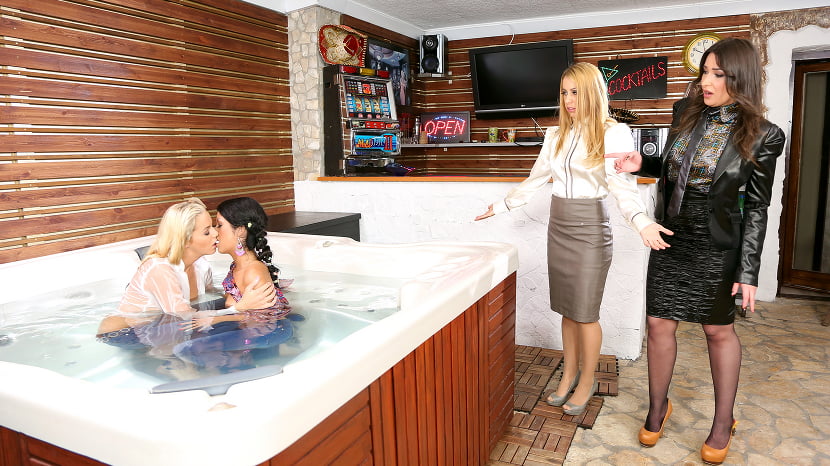 Christen and Vivien Bell just got their pussies pounded in the jacuzzi, but if they thought the fun was ever they're quite mistaken! Nikky Thorne and Akasha Cullen enter the bar and see these two babes hanging out in the water with their ripped up jeans, and at first they're upset that they've made a nasty mess in the jacuzzi, but as soon as the splashing starts happening the mood changes and Nikky and Akasha are all about joining and keeping the orgasms going! After both of their fully clothed selves hop into the water the legs start spreading and the tongues and double-sided dildos are making their way inside those pretty pink holes! This sexy foursome knows how to please pussies, and that's exactly what they get up to in this toy-fueled wetlook action where the jeans are still shining through! Check out four absolute stunners making the most of this jacuzzi!
You certainly can't blame this guy for trying to convince denim wearing duo Christen and Vivien Bell, and lucky for him they're total sluts and down for some wetlook threesome in the jacuzzi! There's nothing like thoroughly wetting down a pair of jeans and then ripping into them just enough to slide that cock in and pound away at both of these beauties! Both of these babes are roarin' to go, taking it and watching each other feel the cock fury, loving the taste of each others pussies in some hot pussy 2 mouth action! This threesome is all about going hard on some jeans junkies, and they know they're denim covered asses look fine, and when this dude has had his way with both babes he busts a nut right on Christen's shaved pussy! See just how hot some wetlook denim action can get!
It was time for another good ole fashioned Euro Sex Party. Vivien and Maria joined us along with Choky and Tony. The four quickly got to know each other. These Hungarian beauties were sexy as hell and ready to fuck. Once Vivien showed off her panties with a quick-release bow and Maria said, I like it in the ass, it was all over. The Euro boys gave these girls the party they came for. The girls were endlessly fucking and sucking, as they switched between the two guys. Maria took that cock deep in her ass while Vivien continuously showed her love for dick with her pussy and mouth. This party kept rockin hard until Choky exploded onto Vivian's pussy, and the two girls took a load from Tony to the chin.